●Stocks on sale (29 July 2015)
The stocks are currently available online. The proceedings will be donated to the participating shopping street at the end of March 2015.

JAGDA Online Shop 
Yahoo! Shopping

●Report on sales and exhibitions (25 May 2015)
From January 2014 to March 2015, the Handkerchiefs for Tohoku Exhibition 3 was held at 22 venues in 15 cities in Japan and China, selling 6,335 handkerchiefs on site and online. The total profit of 2,360,518 Yen was donated to four participating shopping streets in Tohoku. We would like to express our sincere gratitude to those who supported our project.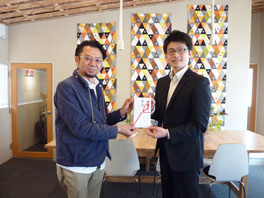 Yoake Market and Shirogane Koji, Iwaki City, Fukushima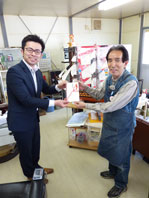 Shichi-no-ichi Shopping Street, Shichigahama Town, Miyagi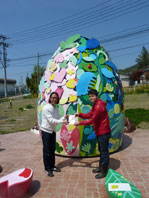 Takata-osumi Tsudoi-no-oka Shopping Street, Rikuzentakata City, Iwate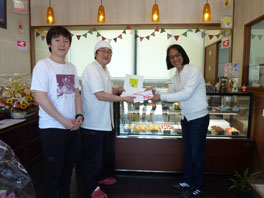 Rikuzentakata Mirai Shopping Street in Rikuzentakata City, Iwate


–Design handkerchiefs with "voices" from Tohoku revitalization shopping streets–

Since 2011, JAGDA has held "Handkerchiefs for Tohoku" exhibitions as a part of its Tohoku revitalization efforts.
For the first round of the nationwide shows, we called for our member artists across Japan to design encouraging handkerchiefs for Tohoku children. Using the proceeds from the sales, 7,332 handkerchiefs were sent to elementary and middle school students in Iwate, Miyagi and Fukushima Prefectures. In the second round, we asked 232 children of the three prefectures to draw pictures, which were then turned into handkerchiefs by our designers. The proceeds from the sales were donated to the four participating elementary schools, where children discussed its usage for their communities, schools and families. They used the money for a marching band and signboards for a disaster prevention green zone.
This time, the designers created handkerchiefs from the workers' "voices" at revitalization shopping streets in Iwate, Miyagi and Fukushima. The owners who had their shops destroyed in the disaster, young people who grew up in Tohoku, newcomers and NPO staff are striving to energize their streets and restore community network. At the exhibition venues, the voices of each participant and the stories behind them will be introduced and the proceeds will be donated to each shopping street.
Three years since the Tohoku earthquake, we hope this exhibition serves as an opportunity to care deeply about people and their communities in the affected area.

Dates and Venues

20 Jan – 3 Feb 2014: Tokyo Midtown Design Hub (Roppongi, Tokyo)




9 – 15 Feb 2014: 2F Co-working Space, Yoake Ichiba (Iwaki, Fukushima)




6 – 31 Mar 2014: Ginza Graphic Gallery (Ginza, Tokyo)




10 – 16 Mar 2014: Gallery Fuu (Fukuoka)




25 – 31 Mar 2014: 8F Event Space, Hiroshima Mitsukoshi (Hiroshima)



 
12 – 20 Apr 2014: Cyg Art Gallery (Iwate)



 
23 – 29 Apr 2014: 1F Isetan Gallery 2, Miraie Gofuku-cho (Shizuoka)



 
23 – 29 Apr 2014: 10F Umeda Souq, Hankyu Umeda Main Store (Umeda, Osaka)


 

29 Apr – 5 May 2014: Yokohama Creative City Center (Kanagawa)


 

9 –11 May 2014: 1F Hacchi Space, Hachinohe Portal Museum "hacchi" (Hachinohe, Aomori)


 

10 –11 May 2014: 2F Center Court, Selva (Sendai, Miyagi)



 
10 –11 May 2014: Tensan-okage-kan, Tenjinbashi-suji Shopping Street (Minamimori-machi, Osaka)



 
14 – 29 Jun 2014: Former Bank of Japan Hiroshima Branch (Hiroshima)


 

27 Jun – 31 Jul 2014: ddd gallery (Namba, Osaka)


 

9 – 14 Jul 2014: Design Gallery, International Design Center NAGOYA (Aichi)



 
12 – 13 Aug 2014: 5F Curian (Oimachi, Tokyo)




10 Oct 2014 – 11 Jan 2015: iBox (Chengdu, China)



 
2 – 6 Dec 2014: Communication Square L, Sapporo Ekimae-dori Underground Walkway (Chi-Ka-Ho) (Hokkaido)


 

13 – 14 Dec 2014: Twin Messe Shizuoka (Shizuoka)




14 Dec 2014 – 25 Jan 2015: Shikokuchuo City Kami-no-machi Museum (Ehime)




2015
7 Mar 2015: Okaido Shopping Street (Ehime)




9 – 15 March 2015: Urban Design Center (Ehime)





Outline
Exhibits: Square handkerchiefs(450mm×450mm, 100% cotton, made in Japan by Yaezawa Co., Ltd.)
Exhibitors: 326 graphic designers (JAGDA members) based on messages by 201 persons from Tohoku shopping streets
Sales: 1,200 yen per handkerchief (tax-included / shipping cost excluded), available at selected venues and JAGDA Online Shop
Participating shopping streets:
In the fall of 2013, we conducted surveys to shop owners, their families, NPO members and volunteers at four revitalization shopping streets in three Tohoku prefectures and received "voices" from 201 people. The proceeds of handkerchiefs will be donated to the following shopping streets.
- Iwate: Takata-Osumi Tsudoi-no-Oka Shopping Street and Rikuzentakata Mirai Shopping Street in Rikuzentakata City 
- Miyagi: Shichi no Ichi Shopping Street in Shichigahama Town, Miyagi District
- Fukushima: Yoake Market, Shirogane Shopping Street in Iwaki City

Special Website
http://handkerchiefs3.jagda.or.jp/